Rajshahi University is the second largest university in the country located in the Rajshahi division of Bangladesh. It was established on July 6, 1953. The present number of students of Rajshahi University is about 38,495. Known as Cambridge in the East, this university is located at Rajshahi University Railway Station and 5 km away from Rajshahi city on the Dhaka-Rajshahi highway.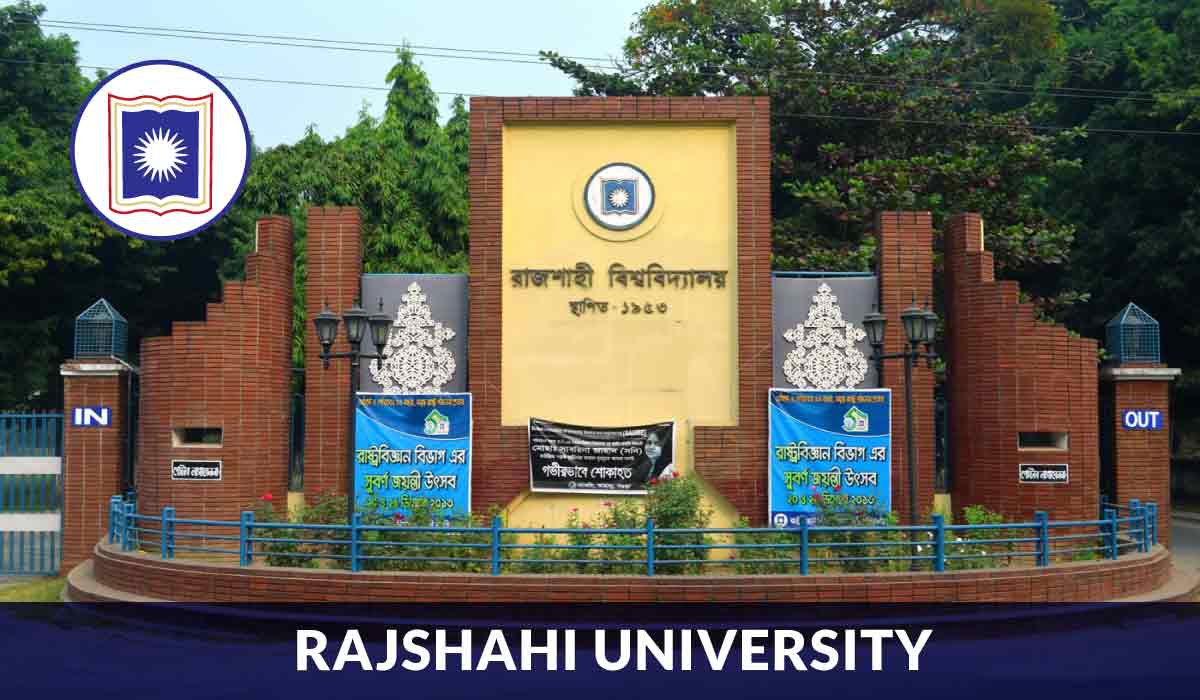 RU at a glance
Type: Public University
Established: 6 July 1953
Chancellor: President Abdul Hamid
Vice-Chancellor : Prof. Dr. M. Abdus Sobhan
Dean : 9
Academic personalities : Nearly 1857
Administrative persons : Nearly 2256
Student : Nearly 38495
Short name : RU
Website : ru.ac.bd
History
Rajshahi College was established in 183 for the development of education in the Rajshahi region during the British rule. At that time post graduate class including law department was introduced in Rajshahi College but after a few days, these activities stopped. At that time it was felt necessary to establish a new university in Rajshahi. After the partition of the country in 1947, the government of Pakistan started the process of affiliating all the colleges of the country with Dhaka University. At that time in Rajshahi the movement for the establishment of a university started as per the recommendation of the Sadler Commission.
The movement for the establishment of a university in Rajshahi started a few days before the language movement On 15 November 1950. A committee of 64 members was formed with eminent persons of Rajshahi. The first public meeting to establish a university and medical college in Rajshahi was held on 10 February 1952 at Bhuban Mohan Park in Rajshahi city. The first demand, however, arose in Rajshahi College.
On February 8, 1952, students from all educational institutions in the city gathered at the Rajshahi College premises and demanded the passage of the Rajshahi University Ordinance.
Later, on February 13, another public meeting was held at Bhuban Mohan Park under the chairmanship of Alhaj Abdul Hamid MLA. Idris Ahmed MLA, Prabhas Chandra Lahiri, Khorshed Alam, Ansar Ali, Abdul Jabbar and others addressed the meeting. The demand for the establishment of Rajshahi University became increasingly intense at one stage, 15 student leaders were imprisoned for demanding the establishment of a university.
Later a delegation was sent to Dhaka on behalf of the students among the members of that delegation are the names of the late Abul Kalam Chowdhury and Abdur Rahman. Thus, under the pressure of one movement after another, the local legislature gave importance to the establishment of a university in Rajshahi Prominent lawyer Madar Bakhsh, a member of the East Bengal Legislative Assembly, joined the movement.
Addressing another public meeting at Bhuban Mohan Park on February 6, 1953, Mother Bakhsh warned the government that if a university was not established in Rajshahi, we would be forced to claim North Bengal as a separate province. Mother Baksh's statement drew a response from the country's elite as well as the government. Finally, on 31 March 1953, the Rajshahi University Establishment Act was passed in the provincial assembly.
Madar Bakhsh, along with the new Vice-Chancellor Professor Itrat Hossain Zuberi, formulated the structure plan of Rajshahi University. A total of 64-member university implementation committee was formed with these two as joint secretaries. It was sponsored by the then Divisional Commissioner MA Khurshid On July 8 of the same year, the university officially started its journey by appointing Professor Itrat Hossain Zuberi as the Vice-Chancellor. At the beginning, the educational activities of the university started with 161 students.
The first class started at Rajshahi College. The offices of the Vice-Chancellor and the other officials are established on the ground floor of Barakuthi. A medical center and library were set up at the then Bholanath Bishweshwar Hindu Academy near Barakathi. The office of the Controller of Examinations of the University was set up at the house of Zamindar Kunjmohan Maitra.
College Inspector's Office was set up at Matrudham in Barakuthi Para. Osman Gani became the first registrar of the university and Professor Abdul Karim became the first examination controller. Hostels were built in rented houses in different parts of the city. The Fuller Hostel adjacent to Rajshahi College was converted into a university dormitory Student dormitories were set up in Lalkuthi Bhaban and another rented building in Barakuthi area.
Construction of buildings and roads on the present campus began in 1956. The educational activities of Rajshahi University were shifted to Motihar's own campus and by 1974 all the offices and departments of the university were shifted here. This campus was built by the Australian architect, Swani Thomas.
List of Vice Chancellors of Rajshahi University:
Prof. Dr. Itrat Hossain Juberi
Duration: 06.07.1953 - 30.09.1957
Prof. Dr. Mamtaz Uddin Ahmed
Duration: 01.10.1957 - 30.08.1965
Prof. M Shams-ul-Haq
Duration: 31.08.1965 -04.08.1969
Prof. Dr. Syed Sajjad Hossain
Duration: 05.08.1969 - 18.07.1971
Prof. Dr. Mohammad Abdul Bari
Duration: 19.07.1971 - 08.01.1972
Prof. Dr. Khan Sarwar Murshid
Duration: 01.02.1972 - 03.08.1974
Prof. Dr. Mozharul Islam
Duration: 04.08.1974 - 18.09.1975
Prof. Dr. Syed Ali Ahsan
Duration: 27.09.1975 - 22.06.1977
Prof. Dr. Muhammad Abdul Bari
Duration: 07.07.1977 - 17.02.1981
Prof. Dr. Maqbular Rahman Sarkar
Duration: 26.02.1981 - 22.02.1982
Prof. Dr. Moslem Huda:
Duration: 23.02.1982 - 20.09.1982
Prof. Dr. Muhammad Abdur Rakib
Duration: 04.10.1982 - 19.03.1988
Prof. Dr. Amanullah Ahmed
Duration: 20.03.1988 - 22.07.1992
Prof. Dr. M Anisur Rahman
Duration: 23.07.1992 - 22.08.1994
Prof. Dr. P. Yusuf Ali
Duration: 23.08.1994 - 16.02.1997
Prof. Dr. Abdul Khaleq
Duration:17.02.1997 - 03.08.1999
Prof. Dr. M Saidur Rahman
Duration: 04.08.1999 - 13.11.2001
Prof. Dr. Faisal Islam Farooqui
Duration: 14.11.2001 - 05.06.2005
Prof. Dr. Altaf Hossain
Duration: 06.06.2005 - 15.05.2008
Prof. Dr. Mamnoon Keramat (Acting)
Duration:16.05.2008 - 28.02.2009
Prof. Dr. M Abdus Sobhan
Duration: 26.02.2009 - 25.02.2013
Prof. Dr. Muhammad Mizanuddin
Duration: 20.03.2013 - 20.03.2017
Prof. Dr. M Abdus Sobhan
Duration: 07.05.2017 - Present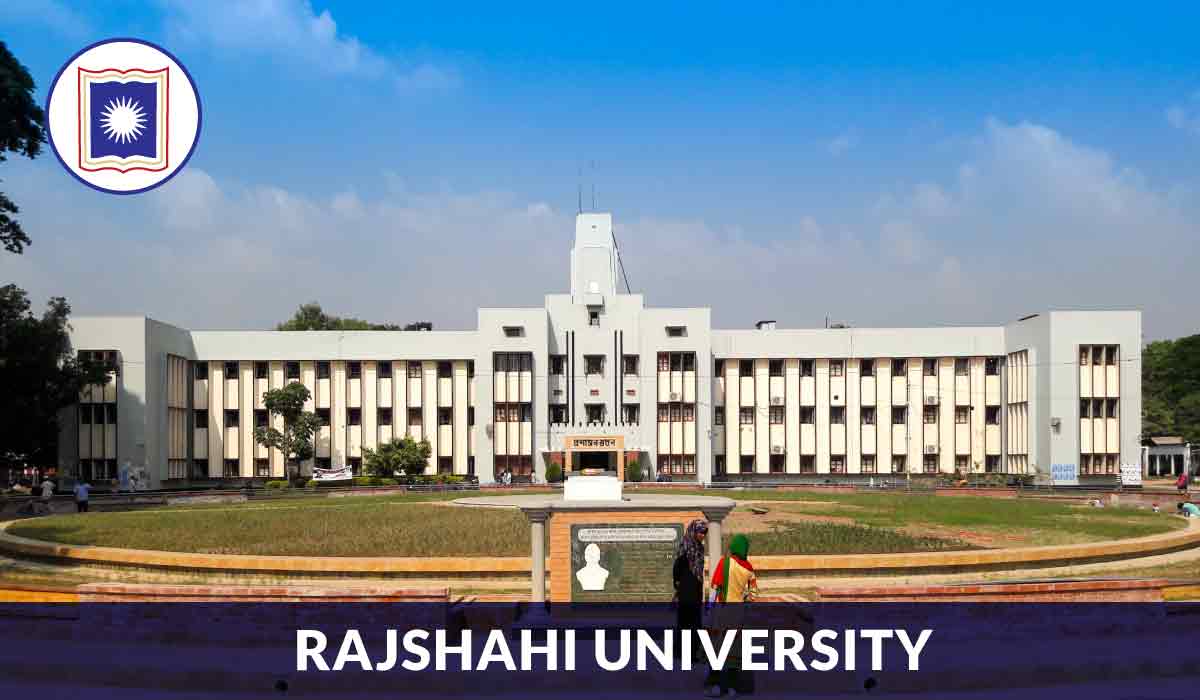 Logo of Rajshahi University
The symbol of Rajshahi University has a circle. That is the symbol of the world. An open book which is a symbol of knowledge and from the sight of the sky the water lily flower is a symbol of beauty, purity and nationality. It is also a symbol of life and energy in the sense of the sun.
Soon after the rise of Bangladesh, the award was announced for the new symbol of the university and the design was called. After selecting the original design drawn by artist Golam Sarwar, Shilpacharya Zainul Abedin and artist Hashem Khan changed the current symbol.
Logo color:
Circle and original text Cobalt Blue. That is the color of sky, river and generosity. The outline of the book is reddish, the color of the national flag. The midline of the book is golden, the quality of education is as valuable as gold.
Speciality
1.
Transportation office and bus stand

Bus Transport System of Rajshahi University is the largest university based bus transport network in Bangladesh.

Transportation office north of the administration building. Behind the office is a market known as 'Transport Market'. Spacious bus stands in front of the transport office. The university has its own petrol pump.
2.
Sports

Stadium: The only university in the country to have a full-fledged stadium. Its location before the first and second science buildings. Regular sports exercises and competitions are held here.

There is also the Department of Physical Education, Steward Branch, Rover Scout Office and Post Office. To the east of the stadium are the gymnasium, swimming pool, tennis complex and basketball court. The capacity of the stadium is about 30,000. At present this stadium has been renamed as Sheikh Kamal Stadium.
Faculties and Institutes
Students are eligible for admission in all the Bachelor program after successful completion of written test followed by interview. Once a year Bachelor Admission Circular is announced. Masters programs take separate admission tests.
At present Rajshahi University has 56 departments under 10 faculties and 41 affiliated educational institutions; Of which 11 are public and 24 are private. Besides, there are 5 higher research institutes in this university.
Faculty of Arts
1.
Bengali
2.
English
3.
History
4.
Philosophy
5.
Islamic History and Culture
6.
Arabic
7.
Islamic Studies
8.
Theatre
9.
Music
10.
Persian Language and Literature
11.
Sanskrit
12.
Urdu
Faculty of Science
1.
Physics
2.
Chemistry
3.
Statistics
4.
Pharmacy
5.
Mathematics
6.
Biochemistry and molecular biology
7.
Applied Mathematics
8.
Population Science and Human Resource Development
9.
Physical Education and Sports Sciences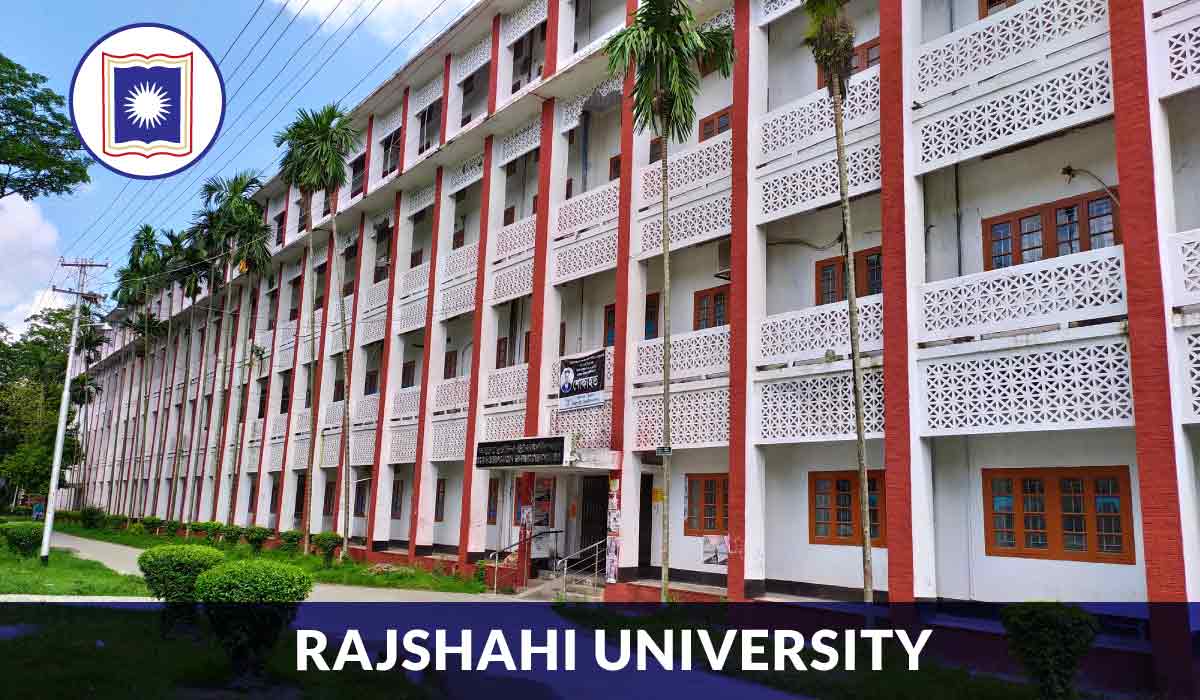 Faculty of Engineering
1.
Applied Chemistry and Chemical Engineering
2.
Computer Science and Engineering
3.
Materials Science and Engineering
4.
Information and Communication Engineering
5.
Electrical and Electronic Engineering
Faculty of Agriculture
1.
Agronomy and Agricultural Extension
2.
Fisheries
3.
Veterinary and Animal Sciences
4.
Crop Science and Technology
Faculty of Fine Arts
1.
Department of Painting, Oriental Art and Printmaking
2.
Department of Graphic Design, Crafts and History of Arts
3.
Department of Ceramics and Sculpture
Faculty of Business Studies
1.
Accounting and information systems
2.
Management Studies
3.
Marketing
4.
Finance
5.
Banking and insurance
6.
Tourism and Hospitality Management
Faculty of Social Sciences
1.
Economics
2.
Political science
3.
Social work
4.
Sociology
5.
Mass communication and journalism
6.
Information Science and Library Management
7.
Anthropology
8.
Public Administration
9.
Folklore
10.
International relations
Faculty of Law
1. Law
2. Law and Land Administration
Faculty of Medical Sciences
Faculty of Biological Science
1.
Psychology
2.
Botany
3.
Zoology
4.
Genetic Engineering and Biotechnology
5.
Clinical Psychology
Faculty of Geosciences
1. Geography and Environmental Studies
2. Geology and Mining
Institutes
Rajshahi University has 6 higher research institutes.
1.
Institute of Bangladesh Studies
2.
Institute of Biological Sciences
3.
Institute of Business Administration
4.
Institute of Environmental Sciences
5.
Institute of Education and Research
6.
Institute of English and Other Languages
Residential halls
The university has a total of 16 halls for students and an international standard dormitory, of which 11 are for boys and 6 for girls.
The Boys Hall
All of the boys' halls are located on the east side of campus.
1.
Motihar Hall
2.
Sher-e-Bangla Fazlul Hoque Hall
3.
Shah Makhdum Hall
4.
Nawab Abdul Latif Hall
5.
Syed Amir Ali Hall
6.
Shahid Shamshujjoha Hall
7.
Shahid Hobibur Rahaman Hall
8.
Madar Bakhsh Hall
9.
Shahid Sohorawardi Hall
10.
Shahid Ziaur Rahman Hall
11.
Bangabandhu Sheikh Mujibar Rahman Hall
The Girls Hall
The girls' halls are located on the west side of the main campus.
1.
Monnujan Hall
2.
Rokeya Hall
3.
Tapashi Rabeya Hall
4.
Begum Khaleda Zia Hall
5.
Rahmatunnisa Hall
6.
Bangamata Fazilatunnesa Mujib Hall
Dormatory
Shahid Mir Abdul Quayyum International Dormatory
Introduction to different buildings:
1. Administration building
2. Central Library
3. Dr. Muhammad Kudrat-e-Khuda Academic Building
4. Syed Ismail Hossain Siraj Academic Building
5. Shaheed Tajuddin Ahmed Senate Building
6. Mamtajuddin Kala Bhavan
7. Dr. Muhammad Shahidullah Academic Building
8. Dr. MA Wazed Mia Academic Building
9. Deans Complex
10. Rabindra Kala Bhavan
11. Satyendranath Bose Academic Building
12. Sir Jagadish Chandra Bose Academic Building
13. Shilpacharya Zainul Abedin Academic Building
14. Faculty of Agriculture Building
15. Shilpacharya Zainul Abedin Academic Building
16. RAKSU Bhavan
17. BNCC Building
18. Zuberi Building
Narikelbaria Campus
Within one kilometer to the right of Rajshahi Naoga Highway, Rajshahi Bypass Road, this campus has an experiment and research farm of the Faculty of Agriculture including the Department of Crop Science and Technology.
Sheikh Kamal Stadium
The huge university stadium is the only full-fledged university stadium in the country. Swimming and water volleyball are regularly played in the swimming pool. Rajshahi University has been famous for sports since its inception.
University Medical Center
The university has a medical center for the treatment of students-teachers-officers-employees. Which is located near Binodpur Gate on the east side of the university. There are general department, pathology, X-ray, ECG, eye, dental and family planning units.
There are a total of 25 doctors including 1 head doctor in this center. There are specialists in ophthalmology, pathology, orthopedics and dermatology. Here students are given all kinds of treatment free of cost and free medicine.
The medical center has its own ambulance to provide quick treatment to the patients in case of emergency.
Rajshahi University School
The school building is next to Kajla Gate. Its college branch is here too.
Sheikh Russell Model School
Sheikh Russell Model School is located in the west of Mamtaz Uddin Kala Bhaban and south of Monnujan Hall.
Barind Research Museum
Established in 1910, the country's oldest museum - the Barind Research Museum - is known around the world for its vast and colorful collection of Bengali art. Located in the city of Rajshahi, this museum is a monument to the ancient history and heritage of Bangladesh and has been operated by Rajshahi University since 1984.
University Printing Press
In front of the medical center of the university, next to the central temple, the university has its own printing press.
Central Jame Mosque
The Central Jame Mosque of Rajshahi University is spacious and has beautiful Turkish installations. There is an Islamic library here.
Monuments and sculptures
Shaheed Minar Complex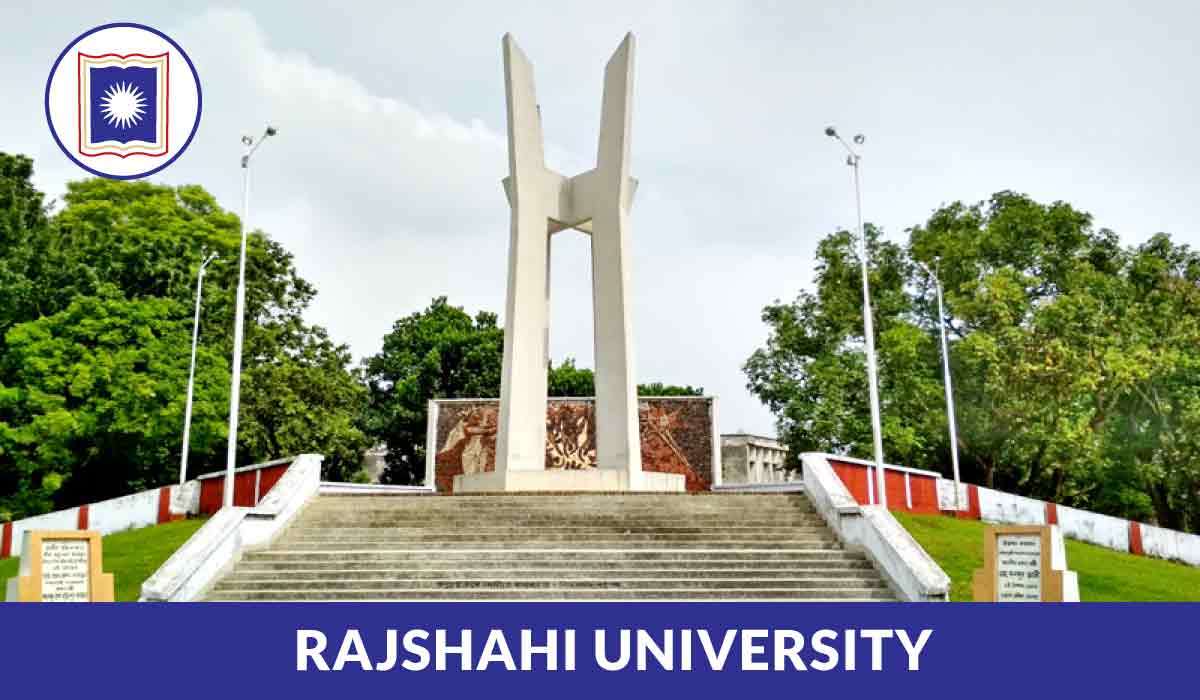 There is a Rabi Shaheed Minar, two murals of Shaheed Smriti Sangrahala and an open stage. Note that this is a Wi-Fi zone.
Vidyargha
During the War of Liberation, the "Vidyargha" memorial was built in memory of Habibur Rahman, a teacher in the Department of Martyred Mathematics. It is located in the premises of Shaheed Habibur Rahman Hall.
Spark
The spark sculpture in memory of Dr. Shamsuzzoha, a proctor and chemistry teacher of Shaheed University during the mass uprising of 1971, is located on the premises of Shaheed Shamsuzzoha Hall on the east side of the university.
Golden Jubilee Tower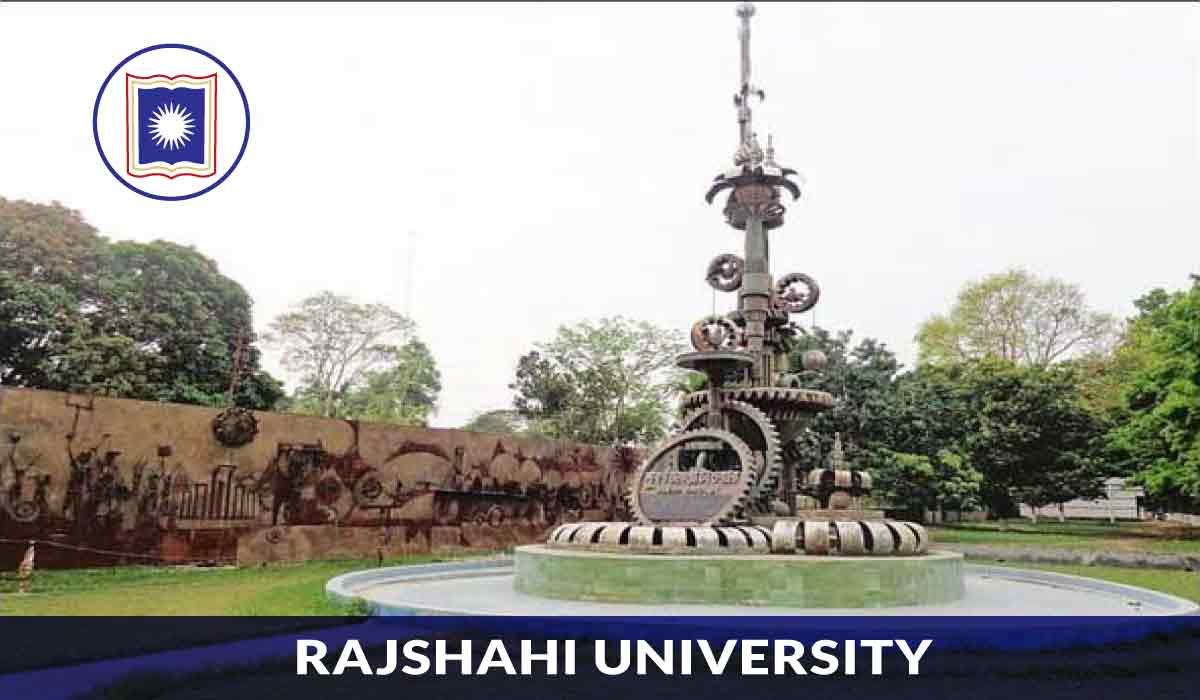 This Golden Jubilee Tower commemorates the golden jubilee of the establishment of Rajshahi University. The road across the main gate is to the right of the island, to the southeast of the roundabout in front of the administration building.
Slaughterhouse Memorial
The slaughterhouse memorial is located about half a kilometer away from the Shaheed Shamsuzzoha Hall of Rajshahi University.
Sabash Bangladesh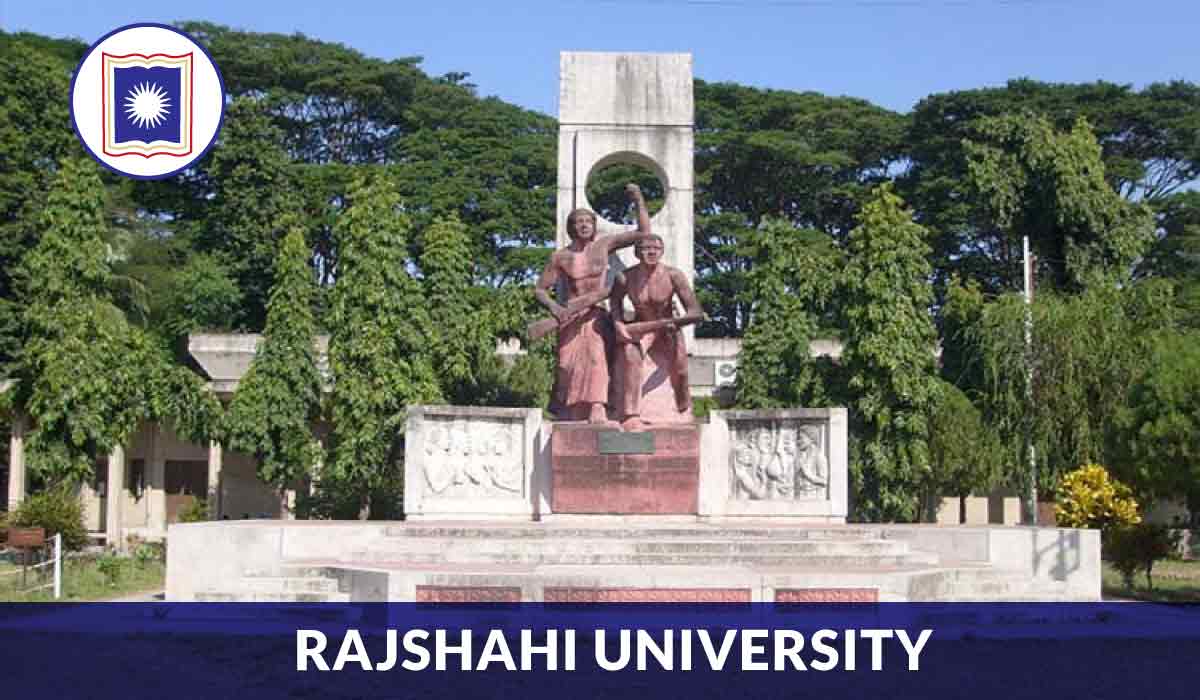 The commemoration of the liberation war is in the south courtyard of the Senate building. There is an open stage at the foot of this sculpture made by the late artist Nitun Kundu.
Organizations
Political
• Bangladesh Chhatra League
• Bangladesh Students Federation
• Bangladesh Nationalist Chhatra Dal
• Bangladesh Students Union
• Socialist Student Front
• Revolutionary student alliance
• Jasad Chhatra League
• Bangladesh Student Friendship
• Bangladesh Islami Chhatrashibir
• Bangladesh Islamic Chhatra Sena
• Bangladesh Islamic Constitution Student Movement
Science
• Rajshahi University Science Club
• Science Movement Stage, Rajshahi University
Cultural
At present there are more than 22 active cultural groups on the campus of Rajshahi University.
Organization of poetry
• Sound, harmony
Drama organization
• Anushilan Natyadal
• Samakal Natyachakra
• Rajshahi University Drama Association (RUDA)
• Tirthak Natak
• University Theater Rajshahi
• Association for Culture and Education (S)
• Bangladesh Udichi Shilpi Gosthi R.B. Parliament
Song organization
• Bangladesh Gana Shilpi Sangstha Udichi
• Charan Cultural Center
• Aroni Cultural Parliament
Cultural alliance
• Rajshahi University Central Cultural Alliance
• Bangabandhu Cultural Alliance
The organization of the debate
• Business Faculty Debating Forum Group of Liberal Debaters (Gold) Bangladesh
• Rhetoric
Literary organization
• Mark, bath
Film organization
• Magic Lantern
• Rajshahi University Film Society
Journalism organization
• Rajshahi University Press Club
• Rajshahi University Journalists Association (Rabisas)
• Rajshahi University Reporters Unity
Voluntary organizations
1.
Desire:

Desire is an organization working with disadvantaged children.
2.
Rajshahi University Rover Scout Group:

This organization was established in 1986. The organization works to build itself as an ideal citizen as well as various social public awareness work. Also better known on campus for collaborating in administrative work. The regulator of the organization is Rajshahi University Administration. The vice-chancellor of the university is the chairman of the group committee of the organization.
Rajshahi University Readers Forum:
Established in 1989, the organization works on topics such as open discussion, seminar organization, office management training, debates, presentations, etc. with the aim of developing students as skilled human resources.
Rajshahi University Career Club started its official journey in 2013 for career conscious students. This organization does various work related to skill development including career fairs.
In 2013, an organization called RUMUNA, which is a UN-based organization, launched itself. In addition, another organization called Rajshahi University Higher Study Club was launched in 2014 and has already organized many seminars on higher education. There are also many organizations including Navajagan Foundation, Rotary Club, Photographic Club..
Convocation
The first convocation of Rajshahi University was held in 1953. The second, third, fourth, fifth, sixth, seventh, eighth, ninth, tenth and eleventh convocations were held in 1959, 1981, 1982, 1985, 1980, 1996, 2012, 2015, 2016 and 2019 respectively. However, no details of the pre-liberation convocations were available. The idea is that they may have been destroyed during the war of independence.
Note that after the independence of the country, a special convocation was held on 22 April 1973 when Professor Khan Sarwar Murshid was the Vice-Chancellor. At that time the Chancellor of the University was the then President Justice Abu Saeed Chowdhury..
At the convocation, French Manisha Andre Malro was awarded D-lit for his special contribution to the war of liberation.
Notable students
In the long history of Rajshahi University many notable students have studied here. They are:
Selina Hossain, Fiction Writer
Hasan Azizul Haque, Fiction Writer
Kabita Khanam,
Bangladesh's first woman election commissioner
Ahmed Jamal, Deputy Governor, Bangladesh Bank
Malay Bhowmik, playwright
Mohammad Moniruzzaman Miah, Vice Chancellor, University of Dhaka
Krishna Debnath, the first Hindu woman judge in Bangladesh
Mahibul Haque, Secretary, Ministry of Civil Aviation and Tourism
Rathindranath Bose, Medical Scientist
Abul Hasnat Mohammad Kamaruzzaman, National Leader
Fazle Hossain Badsha, General Secretary of Bangladesh Workers Party
AHM Khairuzzaman Liton, Mayor, Rajshahi City Corporation
Ruhul Kabir Rizvi, Senior Joint Secretary General, BNP
Abu Saeed, former Minister of State for Information
Shamsul Haque Tuku, former Minister of State for Home Affairs
Biren Sikder, State Minister for Sports
Mostafizur Rahman, Hon'ble Minister, Ministry of Primary and Mass Education
Narayan Chandra Chand, Minister, Ministry of Fisheries and Animal Resources
Bir Bahadur Ushai Singh, Minister, Ministry of Chittagong Hill Tracts Affairs
Khalid Mahmud Chowdhury, State Minister for Shipping
Rebecca Momin, MP, Netrokona-4
Abdul Hai, MP, Jhenaidah-1
Harunur Rashid, MP, Chapainawabganj-3
Pir Fazlur Rahman, MP, Sunamganj-4
Selim Altaf George, MP, Kushtia-4
AQM Sarwar Jahan Badshah, MP, Kushtia-1
Ahmed Firoz Kabir, MP Pabna-2
Asadul Habib Dulu, Organizing Secretary, BNP
Shahiduzzaman Sarkar, Whip, Jatiya Sangsad
Jinnatunnesa Talukder, former state minister
Selina Jahan Lita, reserved women MP
M Mozammel Haque, former judge and MP of Sirajganj-5
Fazlur Rahman Patal, former state minister for communications
Saifuzzaman Shikhar, MP Magura-1
Shafiqul Azam Khan, MP Jhenaidah-3
Sharmili Ahmed, actress
Mohammad Rafiquzzaman, lyricist
Mustafizur Rahman, lyricist, translator
Riaz, filmmaker
Andrew Kishore, music artist
umar Basak, Professor Emeritus
Sanat Kumar Saha, winner of Ekushey Padak and Bangla Academy Award
Mahadev Saha, Poet, Ekushey Padak and Bangla Academy Award winner
Gias Uddin Selim, filmmaker
Ahmed Sharif, actor
Farida Parveen, Lalon Samrajni
Sajjad Qadir, Documentary Producer, TV Presenter
Masum Reza, playwright
Fatema Tuj Johra, prominent Nazrul musician
Rafiqul Alam, musician
Mamtajuddin Ahmed, playwright, actor, linguist
Khoda Box Mridha, commentator, sports organizer
Muhammad Nurul Qadir, lawyer and writer
Abul Asad, journalist, writer
Murad Parvez, actor
Khaled Masood Pilot, former captain of the Bangladesh national cricket team
Al-Amin Hossain, cricketer