NORTH SOUTH UNIVERSITY is the Center of Excellence in Higher Education
UNDER GADUATE ADMISSION SPRING 2022
North South is the first private university in Bangladesh. They started a new dimension of self-financing education systems in higher studies.
Initially they were focused on Business Studies and Computer Science related study programs. Gradually they are taking the shape of a complete University. Now they offer science, social science, and liberal arts related programs.
Admission Deadline: 30 November 2021
Admission Test: 04 December 2021 10:00 a.m. at NSU Campus
Apply online: www.admissions.northsouth.edu
Scholarship/Financial Aid:
NSU provides financial aid to a large number of students including 100% Merit scholarships to the TOP TEN scorers in the admission test and over 100 more scholarships up to 75%
UNDERGRADUATE PROGRAMS:
BBA, Economics, CSE, EEE, ETE, Architecture, Civil & Env. Engineering, Biochemistry & Biotechnology, Microbiology, Environmental Science, Environmental Management, BPharm Professional, LLB, English.
Address: Block: B, Bashundhara R/A Dhaka-1229, Bangladesh
For more University Admission you may visit URQUERY ADMISSION
For further query you may visit Official Website or see the published circular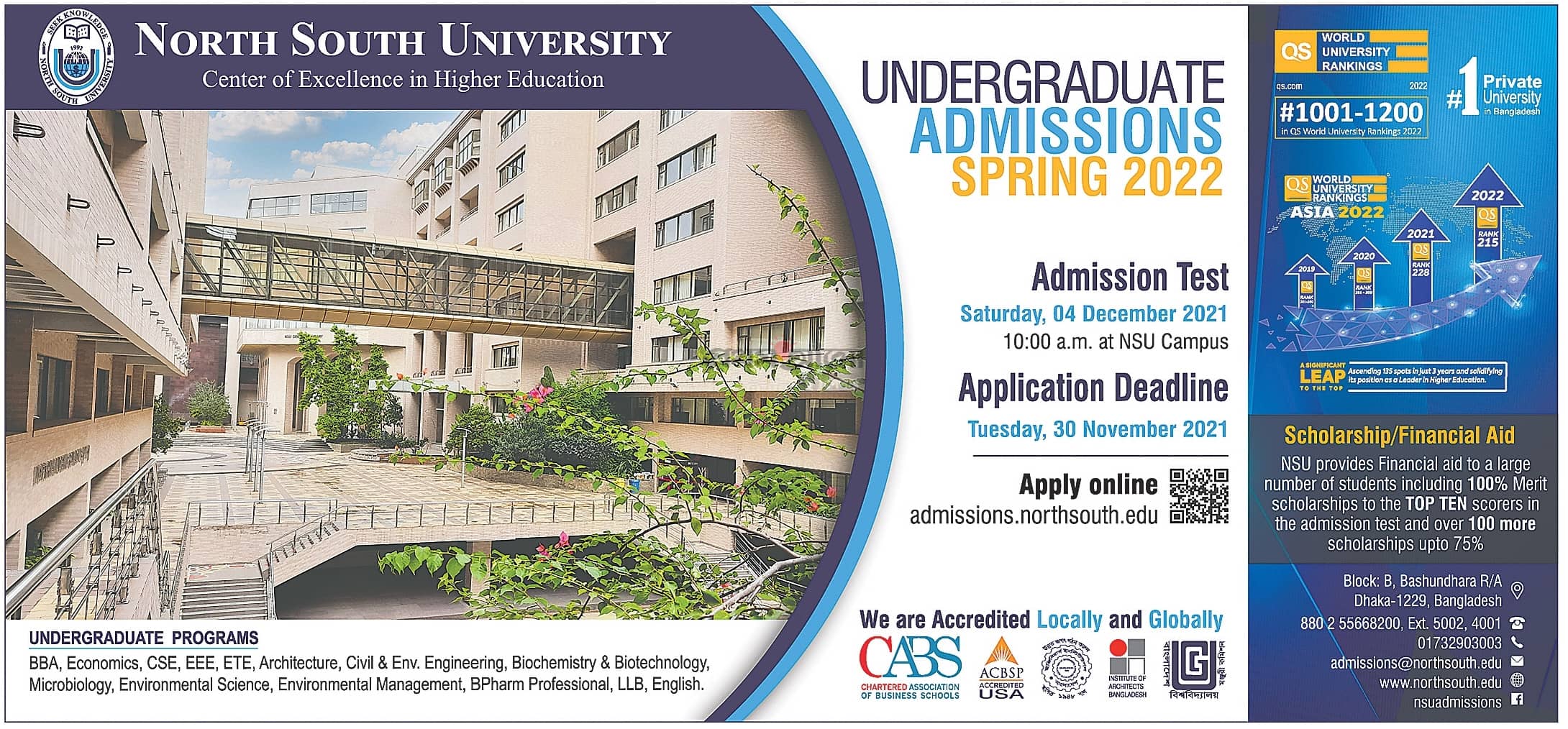 NORTH SOUTH UNIVERSITY
Center of Excellence in Higher Education
Title: M.A. in English
ADMISSIONS SPRING 2022
Eligibility:
• M.A. or M.S. in liberal arts and social science subjects
• Four-year B.A. in English with a CGPA of least 2.75 on a 4-point scale
• Three-year second-class B.A. in English
• At least a second-class B.A. (pass) degree from a recognized institution
You will look forward to:
• The first TESOL program in Bangladesh
• Highly qualified faculty members from globally recognized universities
• Intellectually stimulating environment
• Professionally rewarding investment
• Scholarship opportunities
• Evening classes designed to suit professionals
• State-of-the-art campus
Apply online: http://apply.northsouth.edu
We are accepting applications till 22 Deceber 2021
Email: mahboob.rasheed@northsouth.edu ,
Web: www.northsouth.edu
Application Helpline: 01614271717
For more North South University Admission Notice you may visit URQUERY ADMISSION
For further clarification you may visit Official Website or see the published circular: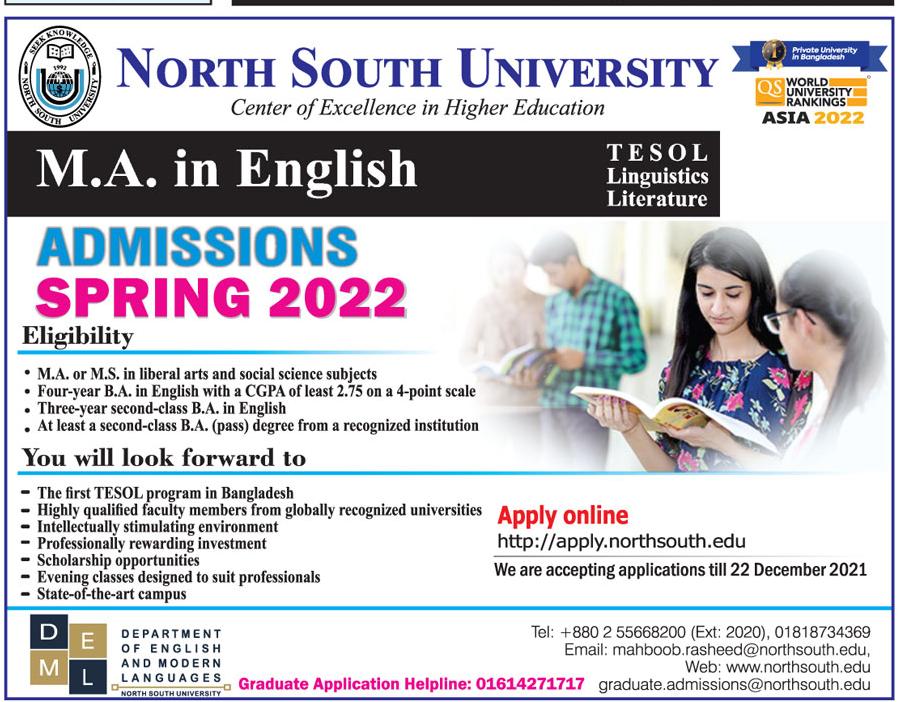 They are inviting MS in the following program
Program Title: MS in Environmental Science and Management (MESM)
Admission: Fall 20211
Professional Opportunities:
• One of the fastest growing job markets
• ESM graduates are employed by international and national organizations (such as DoE, UN, IUCN, GIZ, UKAID)
• Current MESM students work in Compliance, Public Health, Development, Banking, Textile, Garments, and Real Estate sectors
• Possibility of research assistantships in different research projects conducted by ESM faculty
• Several MESM graduates received funding for doctoral studies abroad
NSU Highlights:
• GIS and Science labs
• Highly qualified faculty members
• Globally recognized degree
• Weekend and weekday-evening classes
MESM Highlights:
• Students from science/ humanities/ business/ social science background can apply
• 36-credit hour degree at affordable tuition
• Possible course waiver of up to 9 credits
• Industry-academia collaboration
Application Deadline: 23 September 2021
Web Address and contact Details: +880255668200 ext. 2059 J +8801614271717, +8801747013854 http://apply.northsouth.edu
For more North South University Admission Notice you may visit URQUERY ADMISSION
For further clarification you may visit Official Website or see the published Circular