In the point of view of academic excellence, MPhil Degree is mighty and relatively higher than a master's. Are you keen to carry out liberated research for your post-graduation? If your research project is not elaborate enough for a PhD, you might take this degree into your account. You know what; this degree is a unique qualification that is almost similar to PhD.
To some extent, students have huge confusion regarding this educational trend. Therefore, they usually seem to be indecisive about whether they pursue this degree or not. Here, we are up to deliver an elaborate discussion with related information of MPhil degree. Hopefully, this article will lead you to light the significance of this academic program.
MPhil degree
Actually, MPhil is a two years long academic program based on pure research work. Here, students from any stream can pursue this program. In this course, candidates have to carry out theory-based studies along with practical work. Besides, they have to collect data and analyze them for greater findings. In fact, the research finding is their ultimate goal to accomplish this program.
MPhil meaning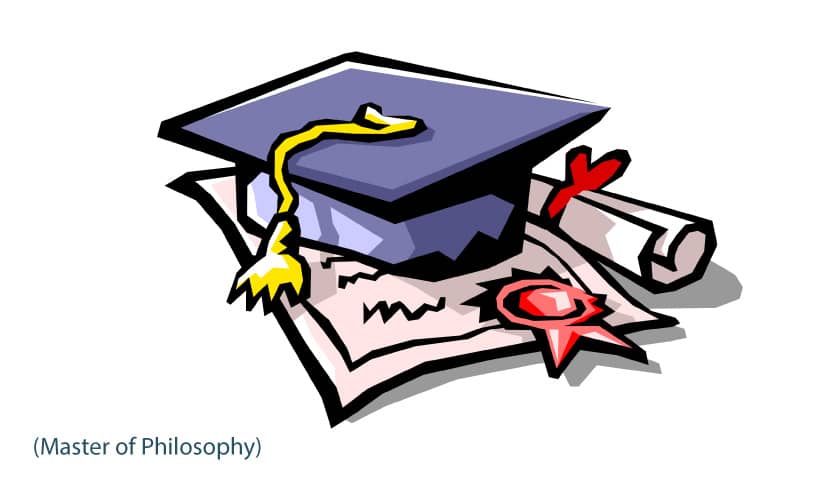 Now, the question is, what does MPhil mean exactly? Actually, MPhil usually means 'Master of Philosophy.' To some extent, you can describe it as a bridge between a master's degree and a PhD degree. Oftentimes, some universities consider this degree as the prerequisite of the PhD program. Here, the aspirants conclude their research work under the supervision of a teacher or supervisor.
MPhil Full Form
The word MPhil has got a very extensive formation. Here, the full form of MPhil is 'Master of Philosophy.' You know what; this word has derived from the Latin word PHILOSOPHIAE. It means wisdom. Therefore, you can certainly point to the lover of wisdom as a detailed meaning of this word.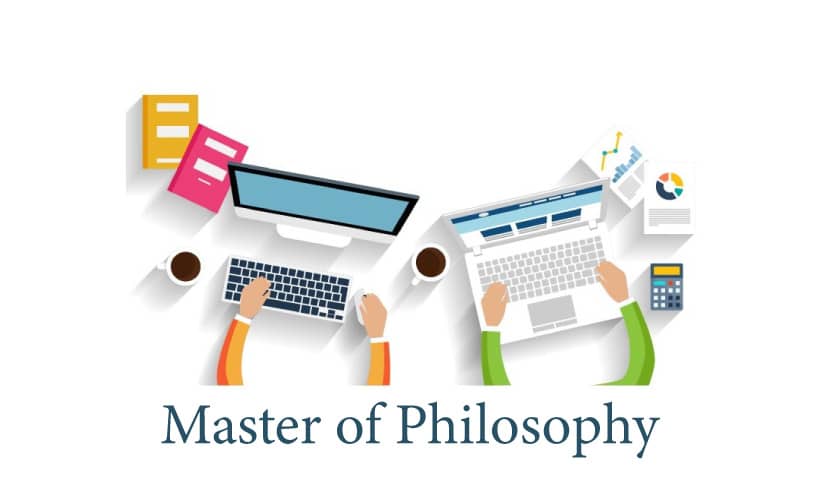 Origin of MPhil
In the Medieval ages, the PhD degree came in the light of the education system. After centuries, some universities aimed to prepare the interested candidates completely. In this continuation, the MPhil program amasses a place in academic excellence. Therefore, they specifically designed this program in a two-year-long course.
In this academic program, the candidates have to accomplish theoretical study. Besides, the core task of the candidates will be conducting research on a specific project. Here, a course coordinator will deliberately monitor the whole work extensively. We have mentioned earlier that this academic program often assists them in enrollment for PhD degrees.
But, it is not a prime condition for every university around the world. For instance, in American universities, the student will not require to have an MPhil degree mandatorily. Conversely, the MPhil course is a must for the candidates if they are keen to admit them into the PhD program. So, whatever the fact is, this degree can lead a person to pivotal his academic excellence.
MPhil VS MSc
Well, we can overview the MSc degree based on the comparative discussion with the MPhil program. You know what; the abbreviation of MSc is Master of Science. After completion of the under graduation program, one can pursue this degree. Here, this degree is entirely exclusive to science-based subjects like engineering, math, and chemistry.
On the other hand, MPhil courses usually follow the research work based on field-level data. As we have alluded in the above lines, the aspirants also study theoretical subjects as well in the MPhil program. So, we can clearly understand that this degree is entirely a liberated research project. That is why; the assessment process of this course follows thesis and viva voce.
Conversely, the candidates amass an MSc degree by appearing in the examination. Besides, they have to successfully complete the coursework as well. Here, a major difference, we can mention, is the duration. Actually, the MPhil program requires two years to complete. In point of MSc, the course takes only one year for completion.
Now, we can find its comparative view of career path. An MPhil degree holder usually leads his career towards the teaching profession. Besides, he can be eligible to pursue PhD program as well. In fact, engaging in research work can also be his career. Contrariwise, an MSc degree holder usually starts his career in a distinctive industry.
Academically, the MPhil program is clearly higher than any master's degree. In fact, it is a more advanced qualification for an aspirant. If you ever find any fact like academic prestige, then MPhil will be more prestigious than MSc. But, you need to be clear here about one thing. You know what; both degrees have the usability and value to meet long-term necessities.
MPhil VS PhD
First of all, we may start with the value of the degree to compare between MPhil and PhD programs. You know what; PhD is a more advanced course in comparison with MPhil. Here, the treatise of MPhil is much shorter and contains less value than PhD. We have already known that it just takes two years to create an original paper in MPhil.
But in terms of a PhD program, it will take at least four years to establish a unique dissertation. You know what; you can describe MPhil as a training course for pursuing PhD program. For the PhD course, it can be the primary stage to learn the basic requirements of a research project.
Here, you may be keen to know the full form of PhD. Well, PhD means Doctor of Philosophy. You know what; this degree is the supreme honor by what a university can bedeck a candidate. By obtaining this degree, a candidate can use the word 'Doctor' before their name. In this degree, the research work is much deeper than MPhil.
For this reason, we usually observe PhD degree takes a longer time than MPhil. Here, in comparison with PhD, the investigating work of MPhil is not much extensive. In fact, you can observe limitations in opportunity and originality of MPhil degree. Conversely, the PhD degree seeks only original research work and depth in the dissertation.
Is MPhil Required For PhD?
To some extent, MPhil can assist a candidate in accomplishing his PhD degree. But, as per the guidelines, MPhil is not essential to pursue PhD course. Truly saying, some universities around the world consider MPhil as a prerequisite for obtaining a degree like a PhD. For instance, we can name the European Universities.
You know what; these universities usually ask the candidates to obtain MPhil before starting their PhD. Therefore, MPhil can be moderately handy for aspirants. Conversely, American Universities do not put much emphasis on MPhil as a requirement for a PhD. But, having an MPhil can add massive value to their research work.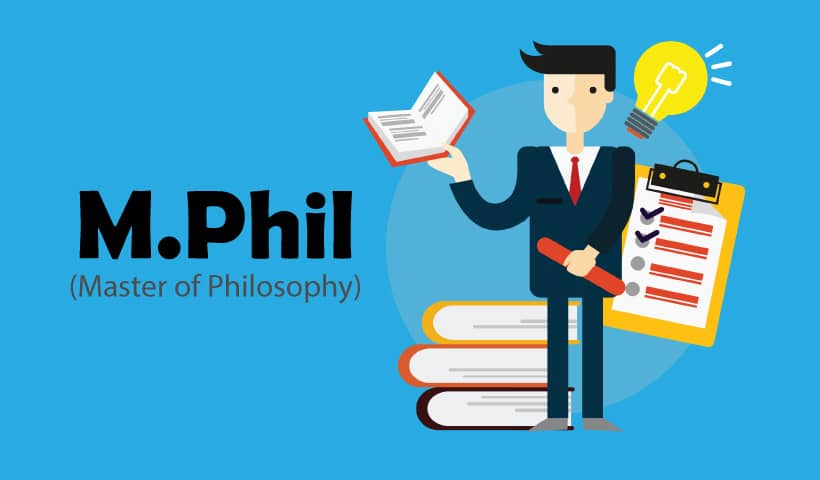 Here, one thing should be explicit to you. You know what; a candidate can pursue PhD degree without obtaining MPhil. But, he should have marks of more than fifty-five percent in his master's course. Besides, if you have NET or NET JRF or SLET, then you will not require sitting for any entrance exam. Therefore, as an eligible aspirant, you can pursue your PhD program without having MPhil.
Conclusion
So, in the end, we observe that an MPhil degree is a highly usable course for research base work. In fact, it can add supreme value to expand your knowledge. Besides, you can amass a lift in your career path by obtaining this degree. It is because; MPhil usually increases the academic excellence of an aspirant. Hopefully, you are now clear about the entire facts of this degree.