IBA, University of Dhaka has invited application from competent candidates for admission in Executive MBA.
Degree Title: Executive Master of Business Administration

Academic Qualifications:

• Minimum 4-year bachelor's degree, or 3-year bachelor's and 1-year master's degree in any discipline with a minimum CGPA of 2.50 out of 4.00 or 2nd class.
• Minimum GPA of 3.00 out of 5.00 (or 2nd division) In both SSC and FISC exams separately.
• No 3rd division/class at SSC/HSC/bachelor's level of education.
• Minimum GPA of 2.00 in both 0 level and A level exams separately. For details, please visit our website.

Job Experience:

• Minimum five years of full-time executive level work experience after bachelor's degree
• Applicants working in organizations that require permission to pursue higher studies must produce the same if selected for viva.
Admission Details:

• The written test will be held on Friday, 01 December 2023 at 10:00 am at IBA, University of Dhaka. The total duration of the written test is one hour. The test has two parts: i) Analytical Ability and ii) English Language & Communication. An applicant must obtain a minimum qualifying score in each of the above two parts to pass the written test and appear before an interview board.
• Art applicant with a foreign nationality and degree(s) having a GMAT score of minimum 75 percentiles may be exempted from taking the written test. However, s/he is required to appear before the interview board.
• For all foreign certificates/degrees (excluding 0 and A Levels), equivalence will be determined by the Equivalence Committee of IBA. Without such equivalence, the applicants are not eligible to sit for the admission test.
Application Fee and Application Deadline:

The application fee is Tk. 4000. The application must be submitted online by Tuesday, 26 November 2023.
For detailed application procedure, please visit IBA OFFICIAL Website
For further information,please contact: EMBA Program Office, Room # 405 (3rd Floor) Institute of Business Administration University of Dhaka,
Mobile: 0 01758171660
Director Institute of Business Administration University of Dhaka
For further deatils see the Official Website or see the published circular: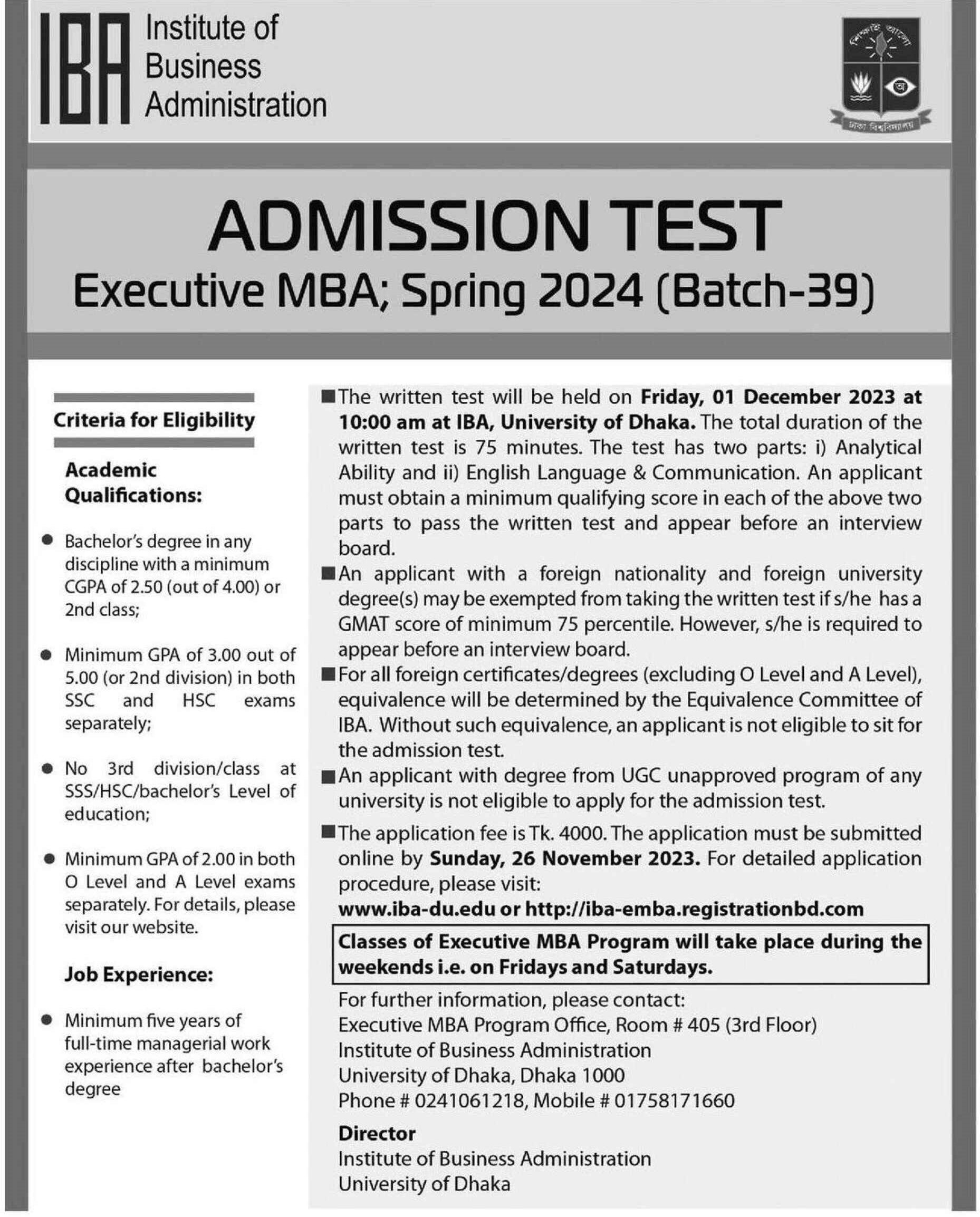 ADMISSION ANNOUNCEMENT FOR EXECUTIVE MASTER OF BUSINESS ADMINISTRATION FROM FACULTY OF BUSINESS STUDIES UNIVERSITY OF DHAKA


Executive MBA Major:

Management,
Accounting and Information Systems,
Marketing,
Finance,
Banking and Insurance,
Management Information Systems,
International Business,
Service Management and Tourism,
Strategy and Leadership.
Specialty:

• Semester system to complete the program in the shortest possible time.
• Unique program to address the needs of individual students.
Admission Requirements:

Bachelor Degree in any discipline may apply. Applicants securing 3rd class or scoring CGPA/GPA below 2.5 in any examination will not be eligible to apply. Applicants with job experience will be given preference.
Availability of Form:

Prescribed application form for admission to Executive MBA Program will be available at Official Website from 16 October, 2023 to 16 November, 2023.

Submission of Online Payment:

Applicants need to pay Tk. 2,500/-(including online processing fee) through Mobile Banking (Bkash & Rocket).
Check website for details: CLICK HERE

Admission Test: 24 November 2023 (Friday) at10:00 am

Online Admit Card:

Print From 19 November 2023 to 23 November 2023

For details please contact the Office of the Dean, Faculty of Business Studies, and University of Dhaka. Telephone: 01850211315, 01825008319

The faculty reserves the right to change the terms of this advertisement if found contrary to the rules of Executive MBA program.

For more DU MBA Admission Circular you may visit URQUERY ADMISSION

For further clarification you may visit Official Website or see the published circular: