Institute of Education and Research (IEER) of Dhaka University is inviting application for admission in the following training on Research Methodology:
Training
Title: Advanced Course on Research Methodology

Course duration: 08 Weeks ( 60 Hours, 40 Classes)

Class timing:

Friday - 4:00 pm to 9:00 pm
Saturday – 5:00 pm to 8:30 pm

Academic Qualification: Minimum Graduation

Admission Form Collection: Room No.-110(First Floor), IER Bhaban, Dhaka University

Course registration period:
From January 09, 2022 to February 10,2022 (9:300 am to 3:30 pm) at every working day from Sunday to Thursday.
Course Fee:
15,000/-(Fifteen Thousand) for any participants, 7,500/-(Seven Thousand Five Hundred) only for Dhaka University Students of regular program

Orientation Date: February 11, 2022 (Friday)

Contact Point: Principal Technical Officer, IER -01715402367


You may visit URQUERY Training for more information on Research Methodology Training in Dhaka.
For further information please visit the Official Website of the university or see the published circular :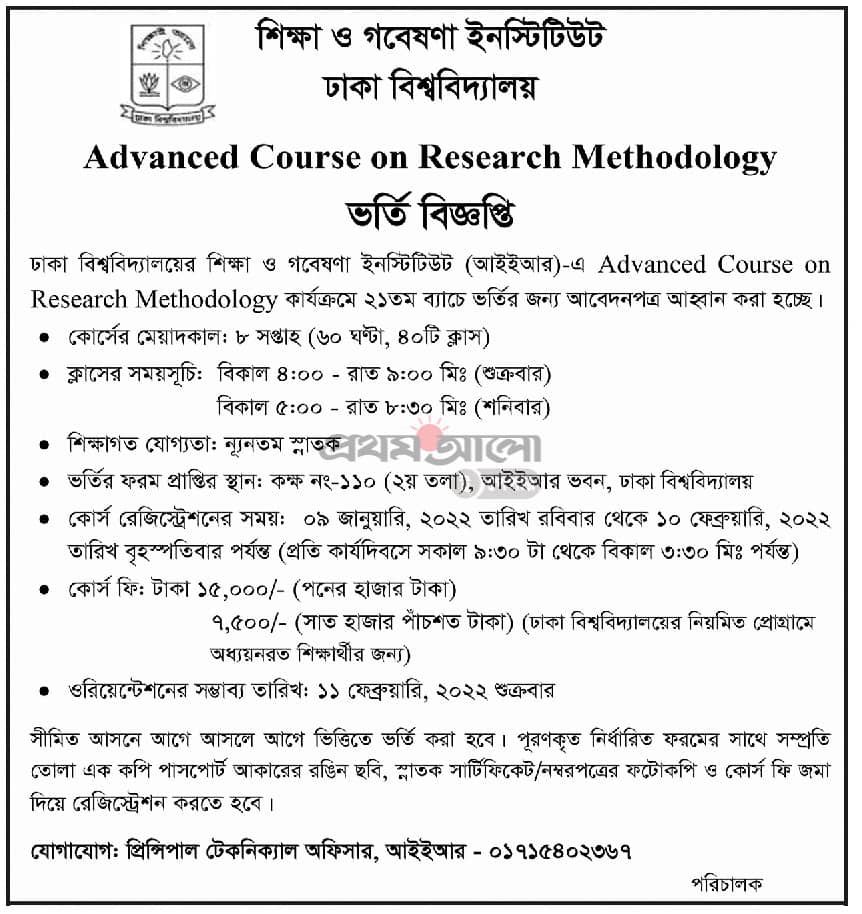 Dhaka University is inviting applications from the candidates for the admission on 38th Training Course (Online) about higher research methodology in social science sponsored by Social Science Research Council, Ministry of Planning.
Name of the Course: Advanced Research Methodology in Social Science
Admission qualification:
• Bachelor (Honors)/Masters pass with minimum CGPA of 2.50 (Scale of 4) / 2nd class
• Running students of Masters can also apply
Course duration: 22 sessions
Course credit: Not applicable
Class time: 3 days in a week
Saturday, Monday and Tuesday: 5.00 pm-8.00 pm
Course fee: BDT 5, 000/-
Deadline of application submission: September 25, 2021
Class starts: October 02, 2021
Application procedures details are in the website